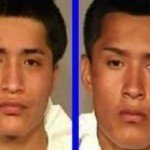 Twin brothers in California have been arrested and bail has been set to $1.1 million dollars for the murder of a Good Samaritan. The 18-year-old brothers are maintaining their innocence for the assault of a woman at a gas station. Read more about this below…
Police say the brothers were assaulting a 35-year-old woman at a Fresno gas station last week when 49-year-old Nathan Halsted tried to help.

Police say surveillance video shows the brothers attacking Halsted, leaving him in the street, where a driver fatally struck him.