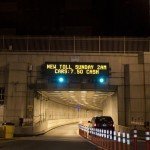 A temporary MTA employee was caught stealing $24,270 from the toll booth, and replacing them with counterfeit bills. The MTA warned all of their employees that if they are ever caught stealing they would be arrested and prosecuted. Read more below…
The alleged theft was discovered when a contractor tasked with counting tolls found the bogus bills, which were then traced back to the defendant's deposit bags, officials said.
A security camera also caught Germain switching some $3,000 from his collection bag with funny money he retrieved from a paper bag, according to documents.